Top Pick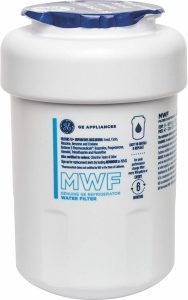 Premium Filtration

Removes Trace Pharmaceuticals

Six-Month Filter Life
Budget Pick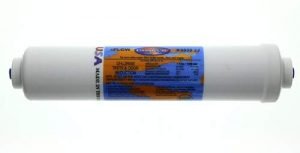 Great Investment

1500-Gallon Filter Capacity

Incredible Value for Money
Premium Pick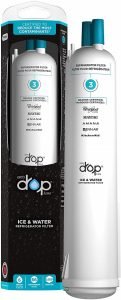 Replaces 1500 Bottles of Water

99% Contaminant Reduction

Filters 200 Gallons of Water
Water filters can have a fantastic impact on your budget. Not only are they great for sourcing healthy, chilled water in your home, they also help to drastically reduce the amount of money that you spend on water every week.In this piece, we'll be reviewing the best inline refrigerator water filters currently available.All of the products mentioned in this list will remove the majority of contaminants from your drinking water while improving its smell and taste. After reviewing these products and displaying their pros and cons, you'll find a buyers guide and the answers to some frequently asked questions.
Refrigerator Water Filter Reviews
​
1.
Top Pick
Top Pick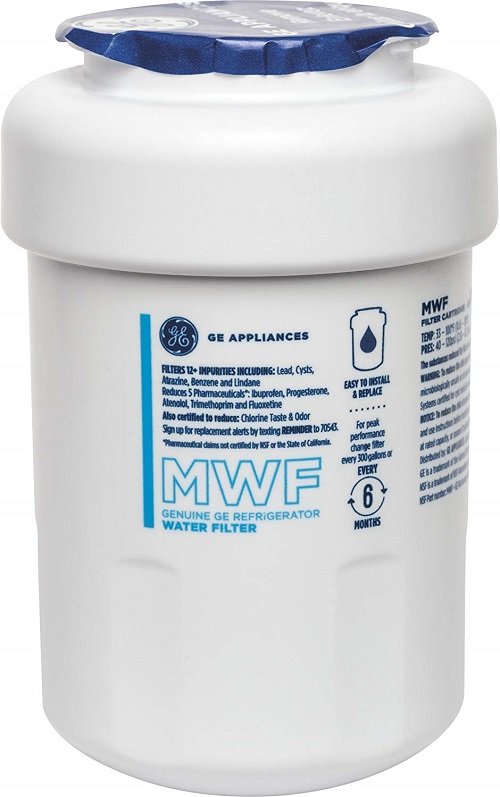 This excellent product from General Electric has had over 4700 five-star ratings from consumers across the globe. It utilizes premium filtration and is certified to reduce lead, chlorine-resistant cysts, select pharmaceuticals, and fifteen other contaminants.It has a twist and lock design, providing toll-free, mess-free filter replacement. With exceptional filtration and six-month filter life, this product is compatible with most GE bottom freezer and side-by-side refrigerators.The MWF is GE's most advanced filtration technology to date. It's tested and verified to filter five trace pharmaceuticals. This includes progesterone, ibuprofen, and others. Furthermore, you can check that it will fit your refrigerator by entering your model number here.
Pros
300-Gallon Filter Life

Advanced Filtration System

Great Price
Cons
Bad Tasting Water in Some Cases

Flow Rates Vary
2.
BUDGET PICK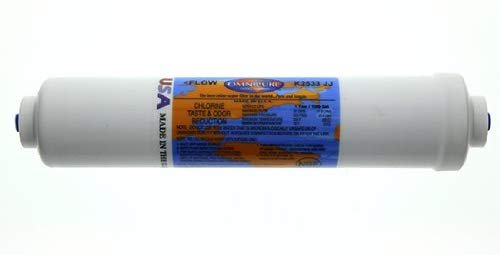 As a budget solution, Omnipire K2533JJ is an excellent product. It's efficient and will fit the majority of fridge models. It comes with quick-connect fittings that make it a breeze to install, and it can be installed without the need for tools or technical training.This is because you'll no longer have to buy bottled water or countertop water filters once you've installed this fantastic product. Another aspect of this model that we appreciated is the fact that it comes with push fittings that are incredibly easy to use. This makes installation a simple process, and it helps when you need to change the filter cartridges.
Pros
Affordable Product

Easy to Install

Instantly Save Cash
Cons
Flow Direction Not Marked

Flow Can Be Weak
3.
PREMIUM PICK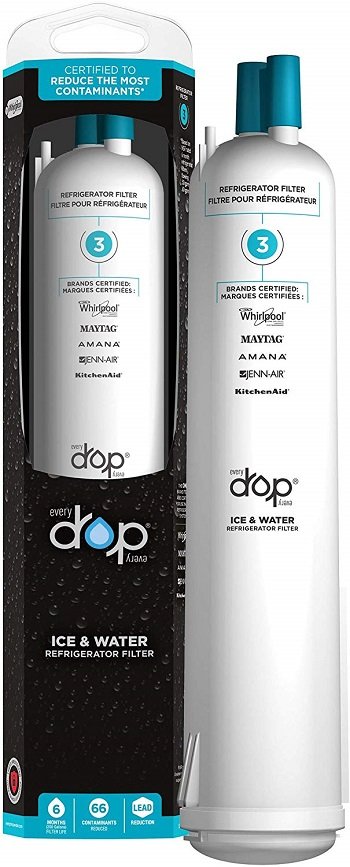 The EveryDrop Filter 3 is our favorite premium model on the market today. It's the only water filter on the market that is approved by Maytag, KitchenAid, Whirpool, Amana, and JennAir brands.This fantastic filter is certified to eliminate 99% of lead, offering significant contaminant reduction for you and your family. It can also reduce 71 active contaminants, including pharmaceuticals, pesticides, and waterborne parasites.If you own a side-by-side refrigerator which accepts Filter 3, the filter compartment should be in the bottom left-hand corner of your refrigerator. For the best results and cleanest water, this filter should be replaced every six months. By replacing the filter, you can maximize contaminant reduction.
Pros
NSF Certified

Filters 200 Gallons of Water

Premium-Quality Product
Cons
Some Products Leak

Difficult to Install
4.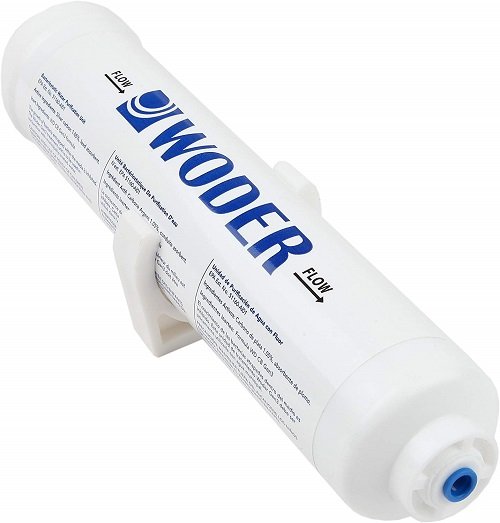 The Woder 10K-JG-¼ is a super-efficient model that fits on the water lines of most fridge models. This unit will successfully eliminate heavy metals, detergents, pharmaceuticals, mercury, chlorine, and chromium from your water supply. Additionally, this product will ret rid of all the unpleasant smells and tastes that can come from water that ends up in your fridge.One of the things that impressed us the most about this filter is its durability and longevity. It can remove contaminants from up to 10,000 gallons of water. This is equivalent to three years worth of household water usage.Due to its implementation of advanced water filtration technology, the filter can remove 99.9% of the contaminants present in water without eliminating any of the healthy minerals that your body requires to function efficiently.
Pros
Advanced Selective Filtration Technology

Makes Water Safer for Families

Durable and Long-Lasting
Cons
Difficult to Instill

Doesn't Reduce PPM in Some Instances
5.

The GE GXRTDR is a fantastic budget solution for those of you looking to increase the longevity of your fridge. It's a universal filter that fits onto most models of refrigerator. However, you can double-check that it will fit your fridge by entering its model number here.One of the things that our team loved about this model is how efficient it is at removing chlorine from water. As soon as you start using this filter, your water will lose its chlorine smell and begin to taste healthier and better.This particular refrigerator water filter model comes with quick-connect fittings that should easily attach to your refrigerator's water lines without the need for any special equipment or professional assistance.
Pros
Great-Tasting Water

Affordable

Fits Most Refrigerator Models
Cons
Some Products Have Leaked

Product May be Fragile
Buyers Guide:
Although different water filters for refrigerators look similar, they remove different contaminants from our water and have varying lifespans. For some consumers, this makes finding the best refrigerator water filter for your needs difficult at times. We'll discuss how water filter's work, alongside some maintenance tips below, this should help you make an informed purchase.
Great for Families
The water and ice dispenser on your refrigerator is much more than an efficient way for you to get a cold drink of water. With the right water filter in place, your fridge becomes a source of pure, clean water that will keep you and the members of your family hydrated and healthy.
Replacing the Refrigerator Filters Are Important
They must be replaced regularly to maintain their effectiveness and reduce levels of bacterial contamination. Refrigerator water filters that are overused or out-of-date can become harmful as they will no longer eliminate contaminants. This allows them to leach back into your drinking water. You should never put off replacing a water filter to protect yourself and your family.
What Does the Refrigerator Water Filter Do?
As well as making your water look and taste terrific, fridge filters eliminate a variety of contaminants that can lead to illness. Premium models can filter out up to 70 different contaminants, including waterborne parasites, pharmaceuticals, asbestos, lead, mercury, pesticides, and industrial chemicals. These are all things that you don't want to be consuming via your home water supply.
When Should You Replace Your Refrigerator Water Filter?
The majority of manufacturers recommend replacing the fridge water filter every six months, depending on use and water quality. However, if there is a vast build-up of sediment in your system, it should be replaced more frequently. Additionally, if you have a big family that drinks a lot of water, your filters will need to be replaced more often than a single person using a filter.Four Ways of Knowing When To Replace the filter:
1

Check the manufacturers' recommendations. Bear in mind that the replacement time that they specify will err on the side of caution to ensure that your water is always clean and safe.

2

Pay close attention to the taste; the flavor will change and become unpleasant when the water filter requires replacing.

3

Check the status indicator if the model has one. The light should glow to indicate that the filter requires replacing.

4

Check the flow rate. If your icemaker is only producing a cube or two at a time, you probably need a fresh filter. Slowed production usually means a spent or blocked filter.
Mechanical Filter Lifespan
No matter how many mechanical filters your fridge has, they do have a limited shelf life. These wonderful feats of engineering are specially designed to allow water to flow through their pores. As water passes through, certain contaminants are trapped.Picture the filter as a vast fishing net with very tiny holes. When water passes through, rust, sediment, bacteria, debris, and parasites get trapped in the pores. However, if an element gets trapped in the hole, the hole will stop functioning.Over time, contaminants will block so many holes that water will struggle to flow through the net. You'll notice a significant drop in pressure as the blockage worsens, as well as a difference in the water's odor and taste.
Activated Carbon Filter Lifespan
As with mechanical filters, activated carbon has a limited shelf life. This material is treated with oxygen, leading to an uneven surface with many small and large ditches.When pharmaceuticals, pesticides, herbicides, and chlorine reach activated carbon, they are attracted to the carbon molecules and get trapped within the ditches on the surface of the carbon filter.Once again, over time, the ditches will start to be filled with elements, rendering them unable to retain any new ones. At this time, the carbon filter will stop filtering the water, and you'll probably notice a change in your water's smell and taste.
Frequently Asked Questions
Do Refrigerator Water Filters Work?
Yes, they do! They work hard to filter out many contaminants from your home's water supply. However, overused filters cannot remove harmful substances efficiently. So make sure that you check the filter indicator and monitor the taste and smell of water, especially after two months of filter usage.
What Do They Filter Out?
It depends on the model that you buy. However, it's safe to say that all water filters for refrigerator eliminate contaminants to a varying degree. It's safe to assume that the higher-end models will filter out more contaminants and last longer than the budget models.
Is Refrigerator Water Filtration Enough?
For the most part, high-quality water filters do an excellent job of keeping contaminants and bacteria out of your family's water supply. So, the answer is 'yes' as long as the filter is changed regularly, and you opt for a model that eliminates the substances you want to avoid.
Final Verdict
If you are looking for the best refrigerator water filter, we believe that the models that we've reviewed in this piece should all be strong candidates.For those of you on a budget, go for the GE GXRTDR or the Omnipure K2533JJ.Those looking for a popular solution for their water filtering needs should consider the General Electric MWF as an excellent all-round refrigerator water filter, able to remove the majority of contaminants from your water supply.Those who like to splash the cash for a more high-end product should purchase the Whirlpool EDR3RXD1. Whatever you choose, you'll be improving the health of you and your family from the second your new filter is installed.